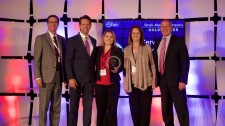 Partners In Leadership awards prestigious 2017 Ozzie to power solutions company for building a culture around product quality and customer service
Temecula, Calif., June 15, 2017 (Newswire.com) - Partners In Leadership, the Accountability Training and Culture Change Company, awarded the 2017 Gold Ozzie in the small to mid-sized company category to Server Technology, a producer of high-quality rackmount power solutions. The Ozzie Awards celebrate organizations that demonstrate excellence in accountability, leadership and culture through implementation of Partners In Leadership programs.
"Server Technology has recognized that the best way to ensure they consistently produce the highest-quality products is to embed that mission into their culture," said Craig Hickman, SVP and Co-Author of The Oz Principle.
"It's made an amazing difference on our accountability and the results that we achieved. Thank you for the award."

Theresa Finn, Human Resources Director
Through their commitment to a culture of accountability, Server Technology has achieved a reputation for having the highest quality products, the best customer care, and top-notch employee satisfaction. In addition, the company has won numerous awards for their work environment, innovation, and product quality.
The company has incorporated accountability as one of its core organizational values and woven the accountability principles into every facet of business operations — from an overhaul of new-hire training, to a complete transformation of performance reviews. The company has even implemented an internal feedback process to allow employees across all departments to act on their ideas for company improvement. This has resulted in 21 employee-led initiatives in the last 6 months that have improved efficiencies, grown revenue, and increased gross margins.
"Server Technology has done an amazing job of implementing the Partners In Leadership tools in the organization," said Theresa Finn, Human Resources Director. Finn accepted the award at the Ozzie Awards ceremony on the behalf of the company. "It's made an amazing difference on our accountability and the results that we achieved. Thank you for the award."
For their commitment to a culture of quality and customer service, Partners In Leadership is proud to add 2017 Ozzie Gold Winner to Server Technology's long list of accolades.
About Server Technology
Server Technology's power strategy experts have provided power solutions for labs, data centers, and telecommunications operations for 30 years. Over 60,000 customers around the world rely on their rack power distribution units and award-winning power management solutions to reduce downtime, facilitate capacity planning, improve energy utilization, and drive efficiency. They have the highest quality rack PDU's, best customer support, and most patents in the industry. To learn more, visit www.servertech.com.
About Partners In Leadership
Partners In Leadership is a leading global consulting firm, the pioneer of Accountability Training, and innovator of cultural transformation. With their network of experts around the world and #1 award-winning content, the firm helps clients achieve their mission by dramatically boosting employee engagement, inspiring innovation, improving cross-collaboration, developing accountable leaders, blending strategy with culture, and more. The firm has enabled thousands of companies and millions of people achieve breakthrough results, reporting billions of dollars in improved shareholder wealth, saving hundreds of thousands of jobs, and shaping some of the best places to work in the world.
For further information on Partners In Leadership, visit www.partnersinleadership.com or call 800-504-6070. For press inquiries, contact Anique Mautner at anique.mautner@partnersinleadership.com or (951) 376-3169.
###
Source: Partners In Leadership
Share: