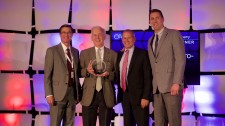 Partners In Leadership awards optical solutions producer prestigious 2017 Ozzie Award for achieving growth through culture
Temecula, Calif., June 16, 2017 (Newswire.com) - ​​​​​​Partners In Leadership, the Accountability Training and Culture Change Company, awarded the 2017 Silver Ozzie Award in the large company category to Research Electro-Optics, Inc, a producer of the highest-quality precision optical solutions. The Ozzie Awards celebrate organizations that demonstrate excellence in accountability, leadership and culture through implementation of Partners In Leadership programs.
"When REO found themselves in a difficult situation, they looked beyond strategy to address the issues they were facing," said Ryan Millar, Senior Director at Partners In Leadership. "They were real with themselves, and transitioned from stagnation to financial growth by transforming their culture."
"This is just evidence of what can happen when you have good tools, a great coach, a committed team and a little bit of leadership."

Paul Kelly, President of REO
Thanks to the culture initiative, REO is on track to double its size by the end of 2017. Additionally, the number of employees who would recommend REO as a place to work has grown from 71 percent in 2014 to 84 percent in 2016. Even more impressive, 100 percent of customers would recommend REO as a supplier.
In 2014, after three years of no growth, a group of 30 leaders at REO worked with Partners In Leadership to examine survey data from managers, employees, and customers. Together, they identified gaps in accountability, established goals for the future, and defined the behaviors and beliefs necessary to accomplish those goals.
The leaders embraced the new approach, setting an example for the rest of the organization as all employees received culture training. REO went even further, emphasizing shorter-term and individual goals to create enthusiasm and momentum around regular successes.
"This is just evidence of what can happen when you have good tools, a great coach, a committed team and a little bit of leadership," said Paul Kelly, President of REO. Kelly accepted the award at the Ozzie Awards ceremony on behalf of the company.
"Accountability is pervasive in our training, our company culture, and our language. It's more than a means to an end. It defines us," Kelly said.
Partners In Leadership is proud to award REO the 2017 Silver Ozzie for their top-to-bottom commitment to creating a culture where all employees can grow and thrive.
About Research Electro-Optics
REO is a volume manufacturer of high precision thin film coatings, optics and optomechanical assemblies for the ultraviolet through the long-wave infrared. The company also produces high performance HeNe lasers. Markets served include semiconductor process equipment, aerospace and defense systems, telecommunications, laser manufacturers, laser based materials processing and life sciences instrumentation. REO brings together a unique mix of engineering expertise, design capabilities, and an extremely broad range of fabrication and thin film coating technologies. When you need creative solutions that meet your most demanding performance requirements, yet are still cost competitive, think REO. For more information, visit reoinc.com.
About Partners In Leadership
Partners In Leadership is a leading global consulting firm, the pioneer of Accountability Training, and innovator of cultural transformation. With their network of experts around the world and #1 award-winning content, the firm helps clients achieve their mission by dramatically boosting employee engagement, inspiring innovation, improving cross-collaboration, developing accountable leaders, blending strategy with culture, and more. The firm has enabled thousands of companies and millions of people to achieve breakthrough results, reporting billions of dollars in improved shareholder wealth, saving hundreds of thousands of jobs, and shaping some of the best places to work in the world.
For further information on Partners In Leadership, visit http://www.partnersinleadership.com or call 800-504-6070. For press inquiries, contact Anique Mautner at anique.mautner@partnersinleadership.com or (951) 376-3169.
###
Source: Partners In Leadership
Share: