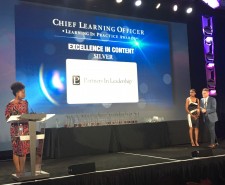 Global Consulting Firm is Awarded Silver for Excellence in Content at the CLO Symposium+PLUS
Temecula, CA, September 28, 2016 (Newswire.com) - ​​​​Partners In Leadership, a global consulting firm and the pioneer of Accountability Training, is excited to announce that the company has been recognized for an industry-leading award at the prestigious Learning In Practice Awards at the 2016 CLO Symposium+PLUS.
The firm received the silver honors in the Excellence in Content category, which recognizes vendors that have created superior customized and/or off-the-shelf learning content. This award marks the third consecutive year in which the management consulting and training firm has won a Learning in Practice Award; in 2014 and 2015, Partners In Leadership was awarded gold in both the Excellence in Content and Excellence in Social Learning categories, respectively.
This award is not only a success for our organization, but for each of our clients...

Gordon Treadway, CEO & President, Partners In Leadership
Partners In Leadership received recognition at the Learning In Practice Awards ceremony and dinner hosted by Chief Learning Officer magazine at the JW Marriott Scottsdale Camelback Inn in Scottsdale, Arizona on Tuesday, September 27.
"Being recognized for this prestigious award and winning a CLO Learning in Practice award three times in as many years is an absolute honor," said Gordon Treadway, CEO of Partners In Leadership. "Through our winning content, our clients learn to focus on key results and to drive employee performance while improving employee engagement. El Rio is an example of that excellence in organizational change."
Partners In Leadership was nominated for this award by El Rio Community Health Center, a leading healthcare provider in Tucson, Arizona. To remain competitive in the rapidly-changing healthcare environment, El Rio's leadership team and Board members decided that strengthening their culture would greatly aid in their mission to remain the preferred healthcare choice in their region.
In 2015, El Rio engaged Partners In Leadership to help transform their culture, focusing on providing a greater experience for both patients and staff members, with the ultimate aim of improving care, satisfaction, and health for all. Since implementing Partners In Leadership change management processes, El Rio has greatly improved patient and employee satisfaction, seen a 25% YoY decrease in emergency room visits, a healthier staff, and positive financial results.
"This award is not only a success for our organization, but for each of our clients, like El Rio Community Health Center," continued Treadway. "The results at El Rio speak to their willingness to engage their employees, communicate their key result needs, and commit to a culture of leadership. That's what winning organizations do to drive success."
The Chief Learning Officer Learning In Practice Awards are known for recognizing leaders and organizations who demonstrate excellence in the design and delivery of employee development programs through a combination of qualities such as leadership, vision, business acumen, and strategic alignment.
For more information on Partners In Leadership, visit the company website at www.partnersinleadership.com.
To learn more about Chief Learning Officer magazine, the awards, or their event, visit www.clomedia.com.
About Partners In Leadership
Partners In Leadership is a leading global consulting firm, the pioneer of Accountability Training®, and innovator of cultural transformation. With their network of experts around the world and #1 award-winning content, the firm helps clients achieve their mission by dramatically boosting employee engagement, inspiring innovation, improving cross-collaboration, developing accountable leaders, blending strategy with culture, and more. The firm has enabled thousands of companies and millions of people achieve breakthrough results, reporting billions of dollars in improved shareholder wealth, saving hundreds of thousands of jobs, and shaping some of the best places to work in the world. For more information, visit www.partnersinleadership.com.
Source: Partners In Leadership
Share: