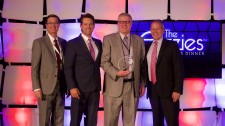 Partners In Leadership awards family-owned construction firm prestigious 2017 Ozzie for using culture to build on a foundation of excellence.
Temecula, Calif., June 16, 2017 (Newswire.com) - ​​​Partners In Leadership, the Accountability Training and Culture Change Company, awarded the 2017 Silver Ozzie Award in the small to mid-size company category to Magleby Construction, Utah's premier luxury custom home builder. The Ozzie Awards celebrate organizations that demonstrate excellence in accountability, leadership and culture through implementation of Partners In Leadership programs.
"Magleby has done a stellar job using Partners In Leadership principals to transition a successful company to a new generation of leadership," said Marcus Nicolls, Senior Partner at Partners In Leadership. "Change management is challenging, but this company affirms that if you focus on culture, you win at everything else."
"On behalf of the Magleby family, thank you so much. This has changed our culture and our business."

Bradley Simons, Vice President, CFO, and Principal Broker at Magleby Construction
Since engaging Partners In Leadership in 2015, Magleby Construction has grown revenue nearly 100 percent, increased profits, and most importantly, improved employee morale.
After Chad Magleby bought the company from his father, he brought in Partners In Leadership to bridge the cultural divide between veteran team members wanting to stay the course and new team members enthusiastic for change and growth. The Lead Culture™ program enabled leadership to articulate cultural values to stand beside long-held core values and define key results for all team members to rally behind.
Employees across the organization received training that provided a shared language with which to acknowledge and hold each other accountable. Magleby took the training further and created a company-specific version of the Partners In Leadership program called MPACT (Magleby Professionalism Accountability & Culture Training).
"On behalf of the Magleby family, thank you so much," said J. Bradley Simons, Vice President, CFO, and Principal Broker at Magleby Construction. Simons accepted the award at the Ozzie Awards ceremony on behalf of the company. "This has changed our culture and our business."
For their dedication to creating a culture that works for both veteran and new team members, Partners In Leadership is proud to offer Magleby Construction the 2017 Silver Ozzie Award.
About Magleby Construction
In 1974, Paul Magleby set out to make a difference in the building industry. His persistent dedication to a higher standard of building has led the way in Utah's home building industry. Well known for his professionalism and leadership, he was recognized by the National Association of Home Builders as Custom Builder of the year in 2007. This commitment to excellence continues under the leadership of his son, Chad Magleby. In 2016, Magleby Construction was again named NAHB's National Custom Home Builder of the Year, marking the first time the award had ever gone to the same company twice. Learn more at www.maglebyconstruction.com.
About Partners In Leadership
Partners In Leadership is a leading global consulting firm, the pioneer of Accountability Training, and innovator of cultural transformation. With their network of experts around the world and #1 award-winning content, the firm helps clients achieve their mission by dramatically boosting employee engagement, inspiring innovation, improving cross-collaboration, developing accountable leaders, blending strategy with culture, and more. The firm has enabled thousands of companies and millions of people achieve breakthrough results, reporting billions of dollars in improved shareholder wealth, saving hundreds of thousands of jobs, and shaping some of the best places to work in the world.
For further information on Partners In Leadership, visit www.partnersinleadership.com or call 800-504-6070. For press inquiries, contact Anique Mautner at anique.mautner@partnersinleadership.com or (951) 376-3169.
###
Source: Partners In Leadership
Share: